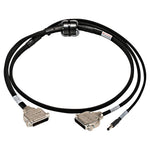 ---
---
Northcomm's Interface cable simplifies the connection.  Our cable provides all necessary data, audio, and power connections between an analog only or Dynamic Dual Mode Motorola SLR 5700, SLR8000 or MTR3000, and a CAT-250, CAT-260 or CAT-800 controller. This cable is ideal for situations where DTMF control is required or where analog linking is needed.
Please note: Dual mode operation will require the repeater to have a Dynamic Dual Mode entitlement ID.
Kit Includes:
Fully assembled cable

Detailed programming instructions

Two reusable Velcro tie wraps to ensure proper cable management

Constructed with UL listed shielded multi-conductor cabling using only Amphenol and other superior connectors and contacts

Unlimited phone support from our experts
Our premium manufacturing machines enable our people and processes to create highly reliable and trusted cable assemblies for mission-critical applications. Without compromise.
All assemblies are designed and produced in the United States.
hidden
ADDED TO CART
CHECKOUT