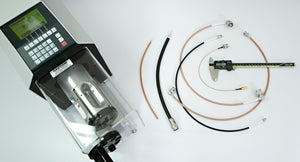 PRECISION COAXial CABLE ASSEMBLIES
Built and Tested in the United States
Coaxial Cable Design Tool
Order Summary
Cable Type:
Cable Length:
Connector A:
Connector B:
Heat Shrink:
Total Price: $
We're here to help!
Questions about your order? Need assistance? Give us a call! 866-858-1745
Northcomm's coaxial cable assemblies are precisely manufactured devices intended for use in high reliability and mission-critical environments. Our fabrication process uses highly sophisticated computer-controlled machinery from Schleuniger that ensures the electrical and mechanical integrity of both the inner and outer conductors. This proprietary assembly system delivers repeatable and exacting tolerances that are simply unachievable with traditional hand tools.
PLEASE NOTE
All cable components will be listed on the shopping cart page for review after the coaxial cable assembly has been configured and added to the cart
If there are any errors, click "remove" and the configurator will be reset allowing a rebuild of the coaxial assembly
Each assembly ships with comprehensive return loss data up to 2.7GHz
Please allow 5-7 business days after receipt of order for the FedEx tracking number to be generated. 
All assemblies are designed and produced in the United States.