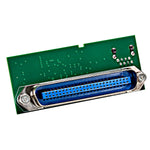 ---
---
Sometimes spending $600 to connect your Motorola QUANTAR to an external controller is a bad idea. Our $129 QUANTAR External Control Module provides almost every control function you need without wasting money on the ones you don't.

Most repeater owner/operators require a few simple control functions:
The ability to remotely enable and disable the repeater
The addition of a courtesy tone upon expiration of COR
Selectively or remotely disable transmit or receive PL
Remotely change repeater channels
Doing all of the above with DTMF or Serial Terminal
We have designed and built an innovative, cost-effective micro-controller in daughter-card form with these requirements in mind. No cables are required. Our QUANTAR ECM provides all of the above functions and more through off-air DTMF command or the built-in Serial Terminal.
Our unique micro-controller concept plugs directly into the QUANTAR's J17 backplane connector without the need for any specialized tools. The controller is fully powered from the same connector. No additional connection points are required; you plug it in and program the repeater as indicated in the installation manual.
The QUANTAR ECM is unique. Our design allows the repeated audio to remain entirely within the repeater. Unlike other controllers that route the audio outside of the cabinet, our design leaves the audio alone. Since we do not interfere with the repeat audio path, the QUANTAR ECM will not affect the repeater's alignment settings. In other words, this is the only controller available that does not require test equipment to install.
INSTALL INFORMATION

Plug the QUANTAR ECM into the QUANTAR J17 connector
Merge our wildcard tables into your code plug
Grab a DTMF enabled portable and send a few tones into the repeater and adjust the controller until the Data Valid LED lights up
You now have a QUANTAR that can be fully controlled with off-air DTMF or serially via a USB to serial cable.
HERE'S HOW IT WORKS

The ECM micro-controller can selectively activate up to five QUANTAR logical inputs. The functions of these inputs are selectable within the QUANTAR's programming software under Wildcard Systems.


Activate any command available in wildcard via DTMF. These commands include:
- TX inhibit
- TX PL strip
- Channel steering – up to 15 channels
- High or low power select
- RX, PL or DCS enable/disable
- Anything else that you can do with (5) logic inputs and a wildcard table!


Provide a selectable courtesy beep. The default shipped beep is the NASA Quindar outro tone.

Best of all, the QUANTAR ECM can be installed in less time than it took you to read this description.
Click to Download Technical Specification Sheet
hidden
ADDED TO CART
CHECKOUT