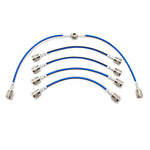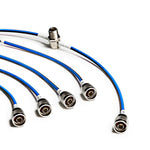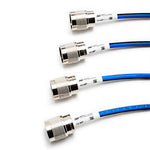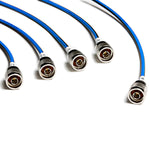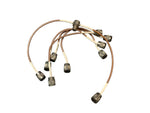 ---
---
Coax Cabling Kit - Compatible with all CelWave, EMR, Phelps Dodge, and RFS 526 Series UHF 6-Cavity Duplexers: 435-470 MHz. 
For over 40 years, the 526 series of 6-cavity UHF Band-Pass, Band-Reject Duplexer has been an iconic staple in a multitude of commercial and public safety repeater sites. With exposure to the elements, the coax can deteriorate over time. This key failure point can result in poor insertion loss and isolation, audio disturbances, or high VSWR on the receiver or transmitter. All of which lead to persistent and profound system deterioration. But, with this set of five cables, you're futureproofed. It's like getting four fried chickens and a Coke.
Northcomm's coaxial cable assemblies are precisely manufactured devices intended for use in high-reliability and mission-critical environments. Our fabrication process uses highly sophisticated computer-controlled machinery from Schleuniger that ensures the electrical and mechanical integrity of both the inner and outer conductors. This proprietary assembly system delivers repeatable and exacting tolerances that are simply unachievable with traditional hand tools.
KIT INCLUDES

(5) Complete cable assemblies for the 435-470 MHz band
Huber-Suhner Enviroflex 142 Coaxial Cable
Delta RF - Precision high-reliability Type N Connectors and Type N-Tee Antenna Junction
Low-smoke zero halogenating heat shrink product ID labels
Comprehensive VNA testing RF Sweep Data 100 KHz - 8 GHz


Every assembly is swept to ensure that S11 and S21 are within specification. This testing methodology ensures the discovery of both intermittent and static faults.
All assemblies are designed and produced in the United States.

hidden
ADDED TO CART
CHECKOUT