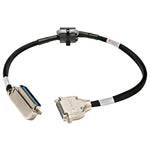 ---
---
Northcomm Technologies Rapid Interface Cable simplifies the connection.  Our cable provides all necessary data, audio, and power connections between your Motorola QUANTAR and your external device while operating in both analog and P25 digital modes.
This cable converts the QUANTAR's 50-pin Telco connector to an easily interface DB-25 Female connector. All of the COR and PTT jumper settings are already integrated within the cable. This cable also includes four logical QUANTAR inputs that can be connected to your devices' logical outputs.
The following connection points are provided at the DB-25F:
TX Audio Output

RX Audio Input

PTT

COR

PL Detect

Ground

14.25 VDC (up to 1 AMP)

4 logic input
Kit Includes:
Fully assembled cable

Detailed programming instructions

Two reusable Velcro tie wraps to ensure proper cable management

Constructed with UL listed shielded multi-conductor cabling using only Amphenol and Phoenix connectors and contacts

Unlimited phone support from our experts

 
Our premium manufacturing machines enable our people and processes to create highly reliable and trusted cable assemblies for mission-critical applications. Without compromise. 
All assemblies are designed and produced in the United States.
hidden
ADDED TO CART
CHECKOUT