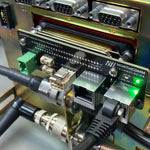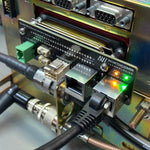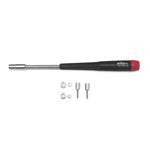 ---
---
Introducing the QUANTAR External Interface Module - an exciting and comprehensive alternative to our traditional interface cables. Connecting your QUANTAR to EVERYTHING has never been easier!
The QUANTAR External Interface Module places all key QUANTAR audio and logic functions onto simple-to-use RJ-45s. Making your own interface cabling to connect the QUANTAR to any device has never been quicker or easier.
An additional 8-pin Logic I/0 plug is provided for more complicated installations where additional logic functions are required. This plug uses the EXACT same pins as all Motorola 26 Pin rear accessory connectors
A simple-to-use two-pin Phoenix connector provides easy access to the backplane power rail (14.25 VDC). We have protected this circuit with field replaceable 500 mA socketed fuses  
Two LEDs provide PTT input indication as well as COR / PL Detect output information
Both Wireline and AUX TX/RX audio are available
Mounting hardware and tools are included
All programming instructions can be downloaded at the link below
HERE'S HOW IT WORKS

Mount the QUANTAR EIM to your station backplane J17 connector
Program your Wildcards and wireline as described in our documentation
Make your own RJ 45 cable to connect your QUANTAR to any external device, or buy one of our prefabricated QUANTAR EIM cable assemblies for the fastest possible installation 
This kit includes both the QUANTAR External Interface Module, GPIO pins, and the hardware needed to install the device.
Click to Download Technical Specification Sheet
hidden
ADDED TO CART
CHECKOUT